A Love Story
From the first warm days of May until the cool shadows of September, Megan Tyler struggles to reconcile her loyalty to a love that's fading with her intense feelings for a man she believes she was destined to be with. Available at Amazon.
The Danger Next Door
When Miles Peterson was 16, he killed a man in Florida and was arrested for murder. Two years later, those charges have been dropped under suspicious circumstances and Miles' family hopes for a fresh start. But Miles' neighbors, classmates, and the police all want to know: Is Miles Peterson dangerous? Yes…he is. Available at Amazon.
An Amazon Top 10 Legal Thriller
A law student is trapped in a deadly scandal after the judge she works for is murdered. Available at Amazon.
A Romance of Love and Dreams
Since childhood, moving from state to state for her father's job, Brette Kinney has wanted to find that one special place to call home. But dreams are often elusive and Brette finds herself caught between what she's always wanted and what her heart is telling her. Available at Amazon.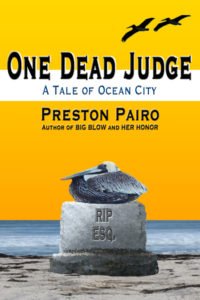 A Humorous Romp Along Sandy Beaches
Nothing can ruin summer like a litigating red tide of lawyers swooping into Dallas Henry's beach town for their annual Who Can We Sue convention. Only then cranky Judge Crenshaw turns up dead and a doughy prosecutor wants to pin the murder on Dallas. Available at Amazon.
Things That Go Bang On Summer Nights
Lawyer/one-star motel owner Dallas Henry is dragged from his beach chair to find out who killed a prominent land developer, and swiped the old artillery gun from the local VFW hall and is using it to fire live rounds at new real estate projects, blowing up bulldozers and otherwise upsetting the mayor. Available at Amazon.
Lies That Get You Killed
Four years ago, a sadistic killer called Bright Eyes stalked Baltimore until homicide detective Jimmy Griffin shot him in cold blood. Now, in the midst of a sweltering Baltimore summer, Griffin uncovers a new Bright Eyes victim, and sets off on a twisted chase complicated by his own lies and deceptions, and the secrets of everyone around him, including his wife. Available at Amazon.
Tropical Noir
Sam Hawkins is running out of money when he's offered five grand to fly to Antigua and find an ailing woman's missing uncle. How hard could it be? Track down kindly Uncle Sal on a tiny island? But some people who go missing don't want to be found, while others lie in wait with offers of temptation. Available at Amazon.
Florida in the Days of Miami Vice
On Florida's Gold Coast, people change when the lights go out…especially those who live on the dark side. Available at Amazon.
A Dark Gritty Thriller
A brilliant high school student vanishes after brutally slaying his father and sister, but not before videotaping their deaths and posting his grisly home movie online — all in an apparent attempt to provoke a preacher called "The Angel." Available at Amazon.